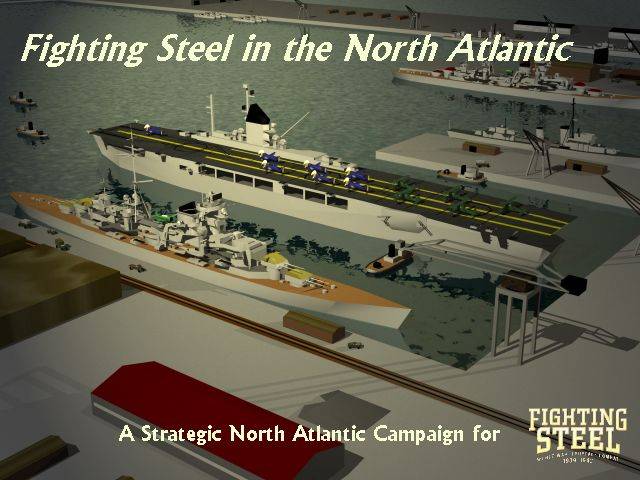 Fighting Steel in the North Atlantic (FSNA) is a strategic campaign for Fighting Steel.
Similar to the campaign mode of GNBNA, it will allow to control task forces in the North Atlantic to either attack allied convoys or to prevent the German task forces to do so.
It is a separate program that will generate a scenario file for Fighting Steel when two task forces engage for a battle and launch Fighting Steel to play the battle.
When the battle has ended and Fighting Steel has been left, FSNA will continue the campaign.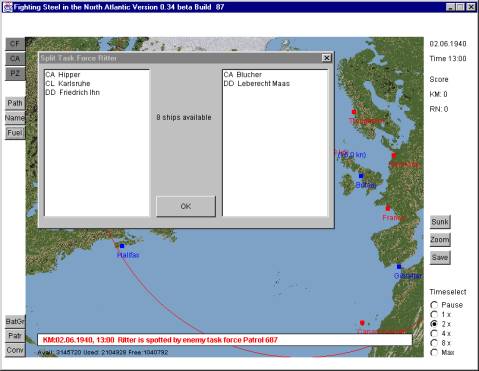 Version 0.34 beta, build 89
Split Task Force Dialog
Version 0.40 beta, build 95
Dynamic Weather System
Note: The screenshots are reduced in size or only show a part of the complete screen, the original size is 800x600 pixels
New features:
FSP 6.0 compatibility: Two alternative data sets to run FSNA with FSP or the original FS version.
Number of allied transports multipled by 10 to set up a more realistic scenario
Dynamic Weather System: Seastate, wind strength and direction are now calculated dynamically. Increasing seastate will reduce the chance to spot enemy ships. Each FS scenario is now created with the correct weather enviroment of the engagement.
Allied ships new start with a higher skill level.
System Requirements:
Fighting Steel installed on the computer
optional FSP 6.0 or higher
min. Pentium 200 with 64 MB
3 Mb free hard disk space
Java VM installed (JDK 1.1.x) or Java Runtime Envirement (JRE) (Or a higher version).
Screen resolution of 800x600 or higher

For comments, bug reports, questions or ideas, you can contact me at fsna@german-navy.de